---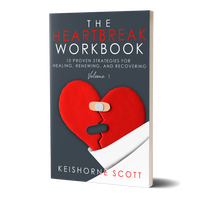 Sale
[Paperback] 

The Heartbreak Workbook: 10 Proven Strategies for Healing, Renewing And Recovering
Don't be a hostage to your pain! You heal by releasing, not suppressing. Experience the life-changing effects of true release. 
Start rebuilding yourself immediately! 
This workbook is designed to turn your pain into purpose. If I had a workbook like this to guide me when I was going through my heartbreak, It wouldn't have taken me two years to get over someone who didn't see a future with me.
In this heartbreak workbook, we will explore, expose, and transform your deepest heartbreak. Through a process of forgiveness of yourself and others, you will dissolve your judgment, guilt, grievance, pain, and self-attack, while taking your heart from brokenness to wholeness.
You will learn...
- How to forgive yourself, accept the pain, change the way you view yourself, and become capable to move forward and love again.
- How to deal with the hurt of the past while managing your obsessive behaviors and negative thoughts.
- How to set healthy boundaries, create an ex-free environment (on and off social media), and learn essential survival skills to heal effectively.
Paperback: 79 pages
Language: English
ISBN-13: 979-8633814712
ASIN: B086PPKGX7
Product Dimensions: 8.5 x 0.2 x 11 inches