Healing Is NOT Negotiable!
After a breakup, it's critical to take care of yourself. Given the severity of the emotional agony, metaphors of physical wounds mending after a breakup are fairly real, with distinct stages of healing later. (They resemble the well-known grief phases of denial, bargaining, anger, sadness, and acceptance.) The good news is that, in most cases, people heal properly, though it takes time and mental effort. Everyone grieves differently and should do what seems right for them, however many people find this book of inspiring quotes to be a must-have guide to healing, support, and exponential growth.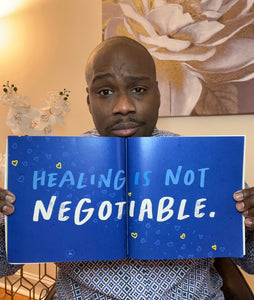 Bits & Pieces: 50 Quotes for Surviving a Soul-Crushing Breakup or Divorce
The pain of an ended relationship or marriage is one that many people experience, maybe even more than once in a lifetime. Movies and books make it seem easy to bounce back after a broken heart: The happy endings either see a couple getting back together or someone moving on to an even better relationship.

My hope is that this collection of 50 quotes will serve as a guide for you on your healing journey. To provide you with bites and pieces of optimism, strength, perseverance, power, and confidence. We want to emphasize that you are not your suffering, hurt, or grief. You have the ability to be whole again. 
BUY NOW
The Mouse, the Bird, the Dog, and the Lion: 3 Men to Avoid and 1 to Marry
Keishorne Scott writes a brief, but powerful playbook on men that everyone s daughter regardless of age, race, color or creed should read!
In this book, Scott gives a reality check on most men and proves that not all of them are created equal. He gives up the secrets on what motivates some men to love and raises the red flags on what keeps others from ever loving back.
Using analogies to certain animals, Scott poignantly provides a roadmap for what to look out for in men and what to look for in a King. By the time you read the last page, you will know for sure what makes your man anyone of the following types:
• A Sneaky Cheat
• A Flighty Hunter
• A Jealous Hound
• A Fierce, Majestic King!
BUY NOW