---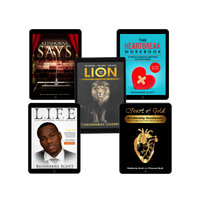 Sale
Limited Time Offer! Save Over $40 with a $60 Value!
Unlock the ultimate 5 eBook bundle for your healing, self-esteem, confidence, and personal development journey.
Get ready for transformative reading! This exclusive bundle includes 5 of Keishorne's best-selling books and workbooks on relationships and healing.
To receive your eBooks directly in your inbox, please make sure to enter a valid email address during checkout.
Don't miss out on this incredible opportunity to invest in your growth and well-being. Grab this bundle now and embark on a powerful journey of healing, self-discovery, and personal transformation!
SO MUCH VALUE!
 WHAT DOES THE 5X RELATIONSHIP AND SELF-HELP BUNDLE INCLUDE?

The Mouse, the Bird, the Dog, and the Lion: 3 Men to Avoid and 1 to Marry
The Heartbreak Workbook: 10 Proven Strategies for Healing, Renewing, And Recovering
L.I.F.E. (Love. Insecurities. Friends. Envy.)
Heart of Gold: 40 Powerful, heart-changing, and astounding relationship devotionals for the broken, the healed, and the hopeless.
Keishorne Says!: This amazing book of quotes was written to speak to the hearts and souls of those who need a jump start in there day to day lives. 
The ultimate ebook package for healing, love, and building self-esteem. 

Grab this bundle NOW!